Welcome to SnowJapanResorts!
What's Silverlight | Resort data | More information | Help | About SnowJapan

Introduction
This new SnowJapanResorts site is a new way to search through the 470+ ski and snowboard resorts that can be found throughout Japan.
SnowJapan, the independent Japan winter sports guide and online community, has been online since 1999.
Every year we endeavor to improve our site with new features and functionality.
In November 2010 we introduced an improved Resort Search feature on our main website.
While that was an improvement, we still wanted to try and find a way to move away from the idea of a basic search form and have spent time since then thinking through how we could further improve the experience.
We wanted something that was more visual.
Something that was more useful.
Something that allowed for more detailed and flexible searches.
And something that was simple and fun to use at the same time.
This new SnowJapanResorts site is the result of that process.

First of all, in order to use SnowJapanForums a browser plug-in called 'Silverlight' is necessary.
Silverlight is made by Microsoft and is a safe and trusted download.
Many modern desktop web browsers will already have Silverlight installed, but if your browser does not already have Silverlight capabilities you will see a message like the one shown below inviting you to install it: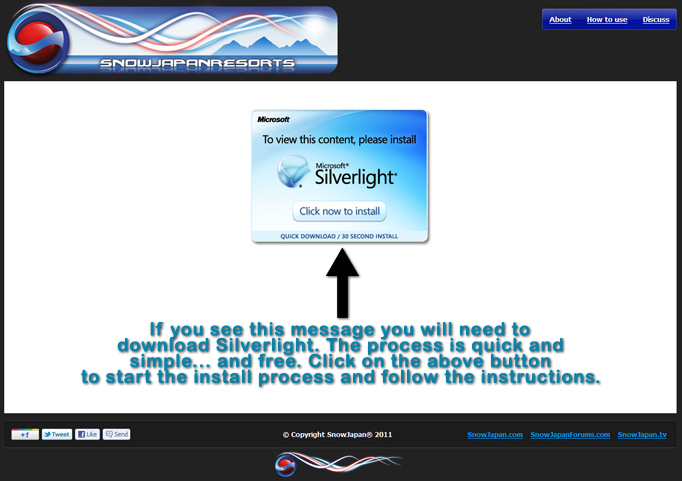 Silverlight is a small download and should only take a short while to install - the one-time process should be very simple and trouble free.
If you do encounter any problems please contact us.
Read this for specific information about using this application on mobile devices.

We have tried to ensure that the information presented on SnowJapanResorts is correct and up-to-date and will be making regular checks to make sure that data remains current.
It is important to note that the following types of data are defined by each of the resorts themselves and do not necessarily conform to any universal ski resort standard:
- the percentage breakdown of beginner / intermediate / advanced courses;
- the number of courses and the length of courses;
- what constitutes a 'Snow Park'.
For example, one resort may consider a course to be 'advanced' where another would classify the same course as 'intermediate' if it was at their resort.
One resort may consider their lone quarter pipe as a 'Snow Park', where another would not consider that as a 'Snow Park' in itself.
We do not control or assign such information and labels.
Please keep this in mind when using the site and viewing search results.

Each resort has a corresponding details page on the main SnowJapan site - here is an example for one resort.
These pages display additional information about each ski resort.
A regularly updated and detailed 6-day weather and snow forecast - along with daily snow depth data during winter months - is also presented on these pages for many of the major ski resorts in Japan.
To visit a resort page on SnowJapan, either click on the small 'SnowJapan icon' graphic on the top right of each image or click on the resort name in the information that is displayed on the right hand side of the screen when a resort is chosen.

Help on how to use SnowJapanResorts
For more information on how to use SnowJapanResorts, including some video demonstrations, please see the Help page.
You can also discuss the site and recommend searches on our Forums.
Use the 'Discuss' link towards the top right of the page to visit the Forums.

SnowJapan is the independent Japan winter sports guide and online community and has been online since 1999.
In addition to the main website, we have a popular and active Forums and also a video sharing website:
> SnowJapan.com - the main SnowJapan site
> SnowJapanForums.com - our online community
> SnowJapan.tv - video sharing site

Thank you!
We hope you enjoy using SnowJapanResorts.
You can discuss the site here